Here you can find all published documents you might be interested in. For further information, please feel free to contact us and we will be glad to help you!
To share our progress we continuously publish the official project reports. In this section you can find our latest documents, sorted in the order of latest approval.
So far we published two documents
DACUS  D1.1  Drone DCB concept and process (2021)
DACUS D5.1 Structures and Rules in Capacity Constrained (urban) Environments (2021) 
DACUS D5.1 Structures and Rules in Capacity Constrained (urban) Environments (2021)
Demand and Capacity Balancing is required where the amount of drone operations justifies the use of this service. Within the scope of the DACUS project, it has been identified that the urban environments would mainly be the location where high-density operations will take place in the near future. In order to lay down the environmental framework for a Concept of Operations for Demand and Capacity Balancing in U-space, an exhaustive description of the urban environments was necessary to well understand in which context the DCB service would be triggered and come into use.
The document provides a deep characterizations of the ground, low-level airspaces and expected CNS performances, so as a description of the legislative framework likely to constrain the operations, just to name a few.
DACUS D1.1 Drone DCB concept and process (2021)
This document describes the preliminary Concept of Operations for "Demand and Capacity Balancing" of drone operations within an urban environment. It provides a guideline for how U-space designated airspace shall be managed from the planning phase up until the execution of drone flights. This process is supported by an extensive literature study and background information on the operational environment in which it takes place. Given the novel nature of drone operations in a civilian setting, several parallels of the proposed solution and the existing air traffic management environment are provided. Finally, the document highlights several relevant research areas which the DACUS project will address.
The DACUS official reports contain a wide set of solutions for the Demand and Capacity management of drone operations. To highlight the contributions of our research to the U-Space development, White Papers on key results obtained in the project are published in this section.
DACUS D5.1 social acceptance survey results (2021)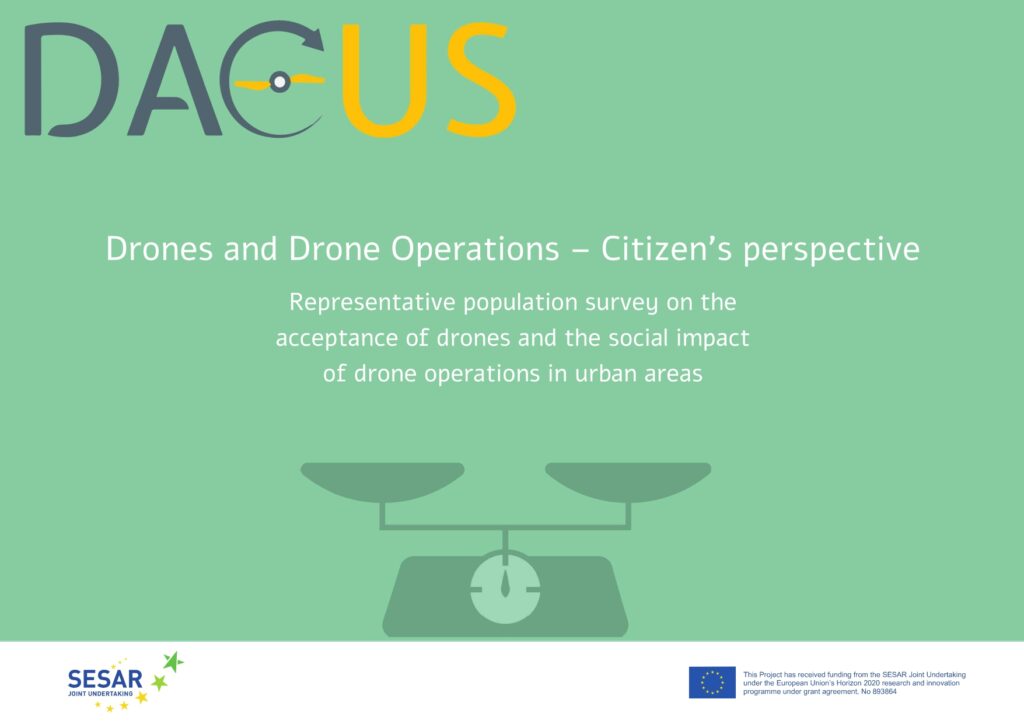 As the emergence of high-density operations in low-level airspace challenges traditional notions of safety, noise, and privacy, DACUS aims to incorporate society's concerns and considerations into the distribution of drone traffic. To this end, a survey was conducted in 2020 to gain a better understanding of public perceptions of drone operations and the extent to which concerns could potentially slow unmanned flight operations over urban areas.
The following white paper summarizes the results of the survey.
Related scientific research publications
The concepts from the DACUS research are serving as a starting point to develop and evaluate different solutions for the DCB models and service functionalities. In this section you can find related scientific and DACUS Research publications in the format of compressed White Papers. The publications base their research on the DACUS concepts and explore these with innovative ideas and methods.
White paper rule-based separation for dynamic airspace management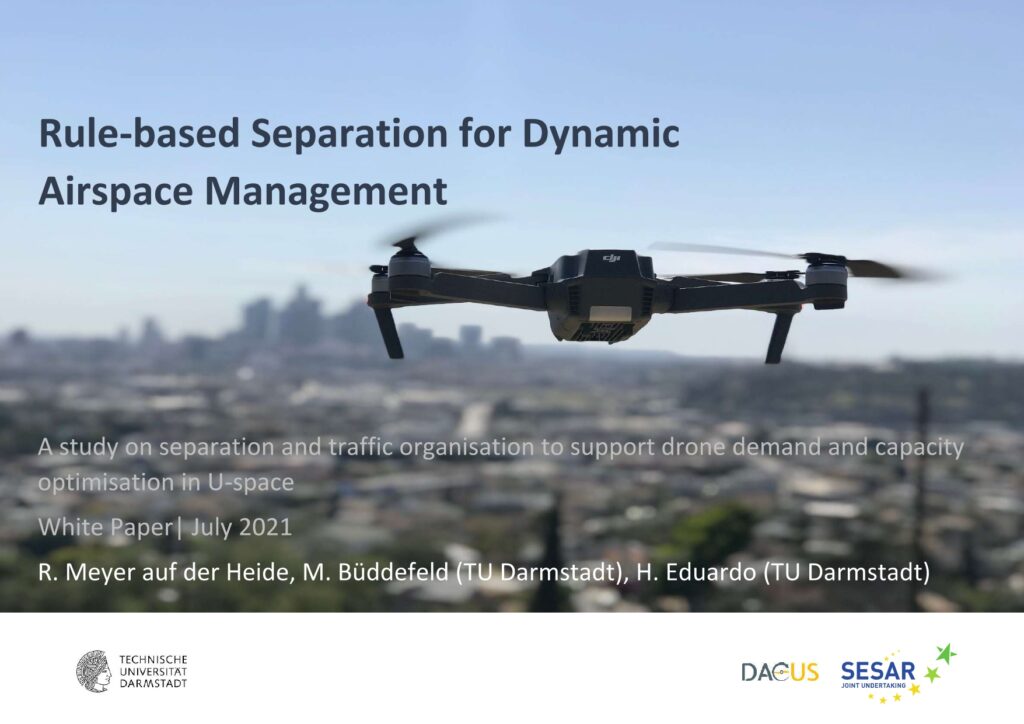 Authors:
Ramón Meyer auf der Heide
Technical University Darmstadt, a member of the DACUS Consortium
This White Paper presents the results of a Master's thesis, which evaluates solutions for the traffic organisation of drones in support of dynamic airspace management, in order to reduce the number of conflicts through focused strategic separation. Considering related research activities and recognizing the ongoing regulatory development, multiple separation rules have been developed and compared. Finally, the implications of implementing these rules are discussed.
Towards a continuous demand and capacity balancing process for u-space - sid 2020 paper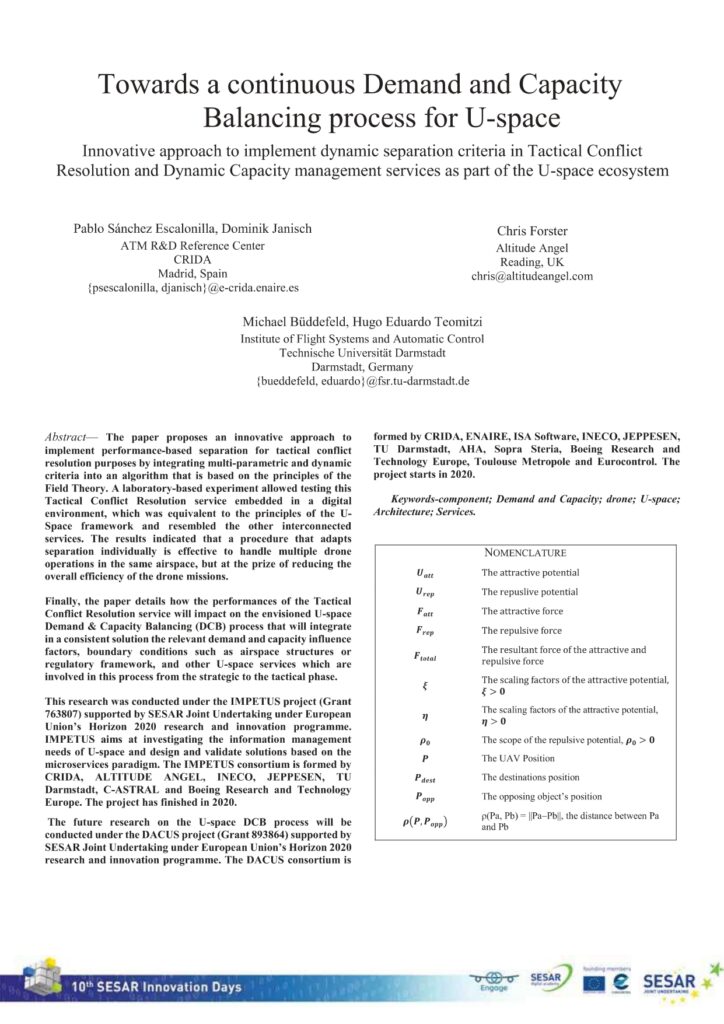 Authors:
 CRIDA, a member of the DACUS Consortium
Technical University Darmstadt, a member of the DACUS Consortium
Chris Forster, Altitude Angel
This paper proposes an innovative approach to implement performance-based separation for tactical conflict resolution purposes by integrating multi-parametric and dynamic criteria into an algorithm that is based on the principles of the Field Theory.